Karl Busts a Move
On the way home from his new job as an EMT (talk about a kid in a candy store!),
Karl
sneaks up on
PG
and
Deni
, who have moved in together. They are just hanging out, talking about how much they hate math, when the horny vampire arrives.
Karl tells violinist Deni how much he LOVED taking lessons as a kid.
They invite him in, and PG can't help but laugh at his ridiculous uniform.
Karl believes himself to be quite the dancing machine.
The girls have a different opinion.
PG throws a water balloon at him to see if he will melt.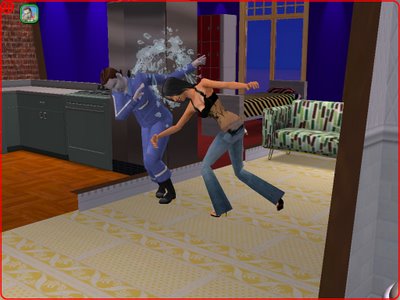 Karl is unfazed, but leaves quickly before the sun comes up. Deni boogies a bit before leaving for work...
...and PG sports a new sweater dress for her first day as a phone psychic. With Karl in their lives, even PG can't predict what's going to happen to these two next!
<< Home